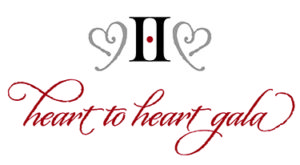 Sacred Heart Community Clinic's major fundraiser is our annual "Heart to Heart" Gala.
This past year's "Heart to Heart Gala" was held April 1, 2017. It was a huge success! The profits went towards our medical clinic expansion and the formation of our dental clinic. We are extremely grateful for the volunteers, donors, and guests that made it wonderful. As you can tell from the pictures from the gala, we had a great time.
We are looking for volunteers for our Gala Team.  It takes many volunteers to put on this exciting event.  Whether you have a lot of time to dedicate or just a couple hours a month to help out, please consider joining our team, contact Wendi at hearttoheartgala@gmail.com for more information.
MARK YOUR CALENDARS!
April 7, 2018
If you'd like information about how to sponsor, volunteer or attend our next event, please visit our Heart to Heart Gala website.