NEW "Acute CARE" Clinic Hours for 2018.  ONLY Acute care (short term illness) will be seen during this clinic.  Chronic Care appointments need to be made during regular clinic hours.
Tuesday  5:00- 8:00 pm and Thursday 3:00-6:00 pm on a first come first serve basis. The number of slots will be determined by the number of volunteer providers for the evening.
2018  LAB Hours: All Monday and Fridays 8:00-11:00 am
Note: We do not prescribe narcotics, or handle chronic pain management.
Allow 2 days for refills, no refills will be issued if you haven't seen the doctor in many months.
DENTAL SERVICES–
SHCC Dental services are only available to current, established patients as of July 1, 2017 due to long wait lists.
*************************************************************************************************
The Sacred Heart Community Clinic (SHCC) provides outpatient health services to the medically underserved residents of the Round Rock area. We are honored to be of service to our community.
What our patients are saying
Our patients have some great things to say!
Visit our Testimonials page to read a few of the comments or watch this video.
If you are an existing patient and want to share your experience, we would love to hear from you!
Screening and Registration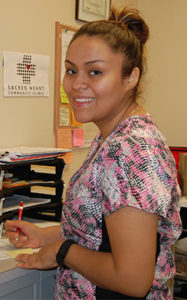 If you live in Williamson County and do NOT have insurance, do not qualify for Medicaid, Medicare, or CHIP, we can help.
Get started by printing and completing our Patient Information Form and calling us at (512) 716-3929 or come by the clinic at 620 Round Rock West Drive (located at the rear of the St. William Church Campus).
A registered nurse will be available to speak with you about your health concerns. The nurse will assist you with the initial screening, registration into the program, and vital sign checks.
If you are new to our clinic, our New Patient Information page provides helpful information.
Appointments are available Mondays, Tuesdays, Thursdays and Fridays.
"Acute Care" Clinics are  open Tuesday and Thursday evenings starting at 5:00 on a first come basis.
NOT APPOINTMENTS WILL BE SET UNLESS YOU ARE REGISTERED AS A PATIENT FIRST!
---