SHCC will be closed the following holidays:
Thanksgiving: November 21- 24th  Christmas: December 21- Jan 2nd
Please make sure you have enough medications to get through the holidays. Staff will not be on site.
Please Note LAB Hours have changed: All Monday and Fridays 8:00-11:00 am
Note: We do not prescribe narcotics, or handle chronic pain management.
DENTAL SERVICES–
SHCC Dental services are only available to current, established patients as of January 15, 2017.  Maximum capacity has been met until Fall 2017 when services will be reevaluated.
*************************************************************************************************
The Sacred Heart Community Clinic (SHCC) provides outpatient health services to the medically underserved residents of the Round Rock area. We are honored to be of service to our community.
What our patients are saying
Our patients have some great things to say!
Visit our Testimonials page to read a few of the comments or watch this video.
If you are an existing patient and want to share your experience, we would love to hear from you!
Screening and Registration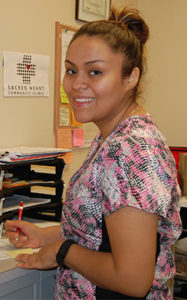 If you live in Williamson County and do NOT have insurance, do not qualify for Medicaid, Medicare, or CHIP, we can help.
Get started by printing and completing our Patient Information Form and calling us at (512) 716-3929 or come by the clinic at 620 Round Rock West Drive (located at the rear of the St. William Church Campus).
A registered nurse will be available to speak with you about your health concerns. The nurse will assist you with the initial screening, registration into the program, and vital sign checks.
If you are new to our clinic, our New Patient Information page provides helpful information.
---